The Expert and Citizen Assessment of Science and Technology (ECAST) network brings together academic research, informal science education, citizen science programs, and non-partisan policy analysis to engage citizens. ECAST creates peer-to-peer deliberations to inform citizens about and solicit their input on science and technology policy issues, in an effort to more fully inform decision-making. Formally launched in April 2010, ECAST has conducted large-scale public deliberations in the United States on policy issues related to biodiversity, space missions, and climate and energy.
Projects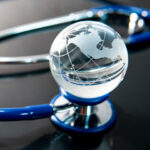 These forums will capture hopes, values, and concerns for the healthcare system and how advances in research should fit into a robust healthcare system. These forums will take place online but center on regional communities.

These forums will capture personal perspectives on solar geoengineering research direction, funding and governance from a demographically diverse group of participants in Phoenix and Boston.

These focus groups captured personal perspectives on the evolution of driverless car technology from a diverse group of participants in Baltimore and Cumberland, MD.

Recruiting now! Participants at 8 different science center forums will learn about and discuss how communities should build resilience for dealing with weather and climate-related hazards.

This innovative collaboration between NASA and ECAST offered ordinary citizens a say in decisions about the future of space exploration.